Richardson Buffer • $450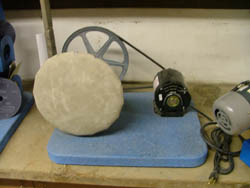 Professional, sturdy, fast, efficient high buffer/polisher. Produces show-finish gems with only two simple machines. Great for both the professional shop and the hobbyist.
Specifications
Construction: Light weight plastic with wood reinforcement.
Power: 1/3 HP 110V
Dimensions: Base – 18″ x 22″, Height – 15″
Buffer Head: 12″ diameter with treated leather buffer cover. Self-tensioning and aligning.
High Speed Dry Sander • $575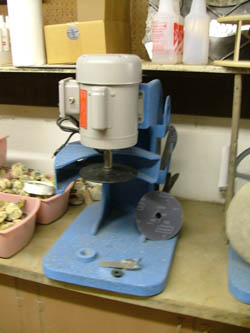 A new concept in rock polishing. Replaces slow, messy methods for a fraction of the cost of conventional methods used today. It is cheaper, cleaner, faster and more enjoyable. Use silicon carbide discs 36-600 grit (available at shop). Sturdy construction, and can be shipped via UPS.
Specifications
Construction: Plastic and wood reinforced frame, strength without weight.
Dimensions: Base – 16″ x 22″, Height – 27″
Power: 1/2 HP 110V
Sanding Disc: 7″ diameter, balanced head, 5/8″ threaded arbor, silicon carbide floor surfacing paper, dust collector guard for vacuum hookup, peel-em off cement.
Order Both units • $1,000 + UPS Shipping
Equipment Supply List
All prices subject to change without notice.
7″ Sanding Discs
Grits (36, 60, 100, 220, 400, 600, 800, 1000) $1.00 each
All discs will be $1.00 each.
Estwing Tools
We have in stock a variety of Estwing Tools.
Blades
We carry MK 303 Professional AKA Barranca Diamond Blades @ 20% off list price. We are always happy to special order any other MK blades or equipment you need.
Diamond Pacific Products
We offer Diamond Pacific Products at discount prices. We are happy to special order any Diamond Pacific Products for you.
All Galaxy and Nova wheels @ 20% off list price.
Lortone Tumblers
3A, 33B, 45C, Triple 1.5 lb., QT 12, QT 66
Loose Grit By The Pound
60, 80, 220, 400, 600, Pro Polish, and Cerium Oxide
We also carry a large quantity of lapidary equipment and digging tools. Our prices are well below suggested retail prices. We are the largest dealer in the U.S. for several lapidary lines. Contact us with any problems you may have or information you may need.